I have finally finished my sampler quilt for our colour theory class.
You may remember me mentioning it throughout the past year. We started with our main colour, in my case Turquoise, and each month we met with our very knowledgeable instruct, Karen Mills, and learned more about the colour wheel.
Our first month was monochromatic and we continued through the months learning about complimentary colours, triads and quadrads and finally finished up using as many colours on the wheel as possible. For my last block I was able to fit in a piece of each colour used in the previous months.
One option in putting the quilt together was to arrange the blocks evenly so it looks cohesive and flows nicely. I chose instead to place my blocks in the order of the months and what we learned. I had a reason, I wanted to remember what I learned!!!! I think that even though I placed mine in order that way, instead of rearranging in a pleasing manner, it came out quite nicely and it feels quite cozy to me.
I have brown flannel for my backing ready to go and I hope to have this quilted up before our fall class signups so that I may bring it in to show Karen that I finished it!
Sorry for the shadows, the trees have gotten quite tall and I didn't realize we were already getting shadows when I took the quilt out for pictures.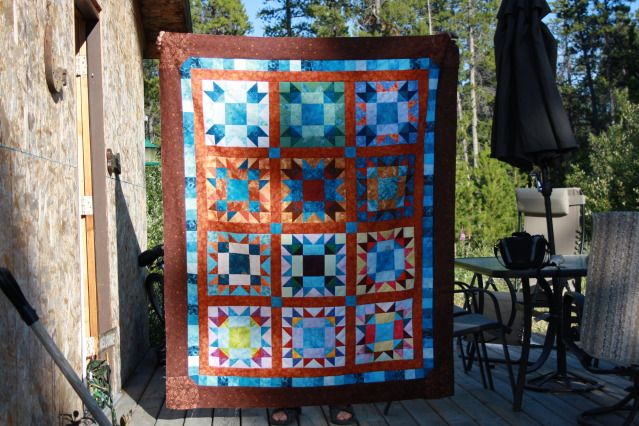 I really had to think hard on how I wanted to finish my borders. I contemplated just butting the brown right up to the lighter brown but then it was becoming a brown (or actually "orange" as brown is a shade of orange I've learned) quilt. So I took all my turquoise scraps from the various blocks and did a pieced border. It was my first time doing this and I learned a lot. For example, piecing lots of little blocks can get stretchy so I had to do some trimming even though I know I did the math correctly. Also, in keeping with the half square triangles in my block, giving some of the blocks a more rounded look through the centres, I decided to make the corner pieces rounded out with half square triangles as well. I really like how it turned out.
Thanks for looking!
Happy Sunday and yay Canada with a bronze today...WAHOO!!!
Vivian