I seem to be going in so many directions and I want to do everything!!!!
First, I haven't taken a picture of my Sue Spargo work yet as I think you really need to see it finished to appreciate it. However! Here is a quick shot of Sue giving some embroidery instructions.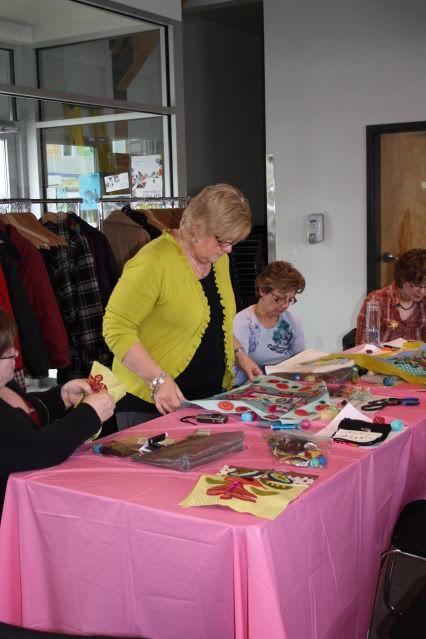 Isn't she just lovely?
Speaking of lovely, I had the pleasure of having the most fun tablemate in our 3 day workshop. Ruth of
Bear's Paw Quilts
. She's such a card.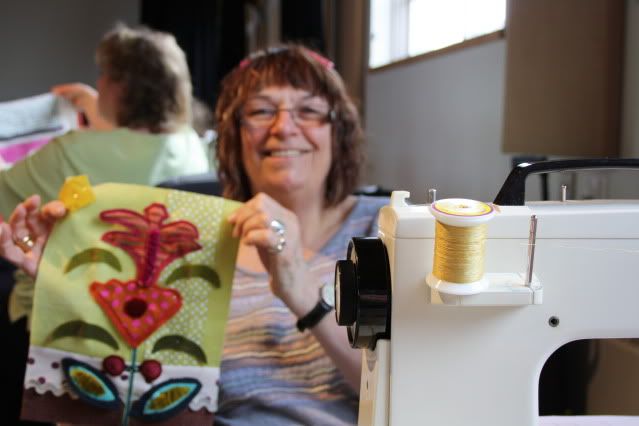 Remember my colour class? Well our last class was on triads so for next weekend (is it already next weekend? man, I leave my homework to the last minute). Here is the colours I'm working with:
Turquoise is my colour. Magenta and Yellow are the other two colours in the triad. For an accent, orange will be used sparingly. I'm going to have to take a photo of all my blocks together soon.
I'm really hoping to get a lot accomplished this weekend. I am spending 4 days (with one of my girls) at a friend's home. They went away and have animals so we are petsitting. I dragged all my current WIPS and some UFOs in both my stitching and my quilting. If this doesn't get things accomplished I don't know what will!
On my way over to their house I stopped at our mailbox and was so excited to see what was in there. My shipment from
Janice at Traditional Stitches
of the #2 and #3 ornaments in the
Little House Needleworks
2012 ornament series. What UFOS? What WIPS? I spent my evening, between reading The Scarpetta Factor and eating Miss Vickie's chips (regular), working on the March ornament.
It is just heaven to stitch and I'm officially halfway finished! By the way, I decided to try these Bohin needles that everyone seems to be so excited about. Until now, I've only used John James or whatever needles I could find at Walmart. Since I was working on something special, I asked Janice to include the Bohin needles in my last order. She sent two sizes as I never know what size I really like to use, I know what it feels like but I can never remember the #. Somebody remember this important information for me, I'm stitching this using the #26 needle and I love it. There is no tugging, no sound (I'm sure someone knows what I'm talking about), the needle is smooth and feels wonderful in my hand. They are also shorter then my usual needle and I like it. I'm sold, Bohin is my new favourite needle.
Ok, back to the grindstone, see you soon and have a wonderful Easter weekend.
Vivian