You will recall our task #2 set out by
Shelly at Prairie Moon Quilts
was to find some items from our piles that we can take a few moments (hours) and complete.
I found two items. First, on my kitchen table pile I uncovered a cross stitch magazine from the UK that had a project that I wanted to stitch. So I pulled it out the magazine.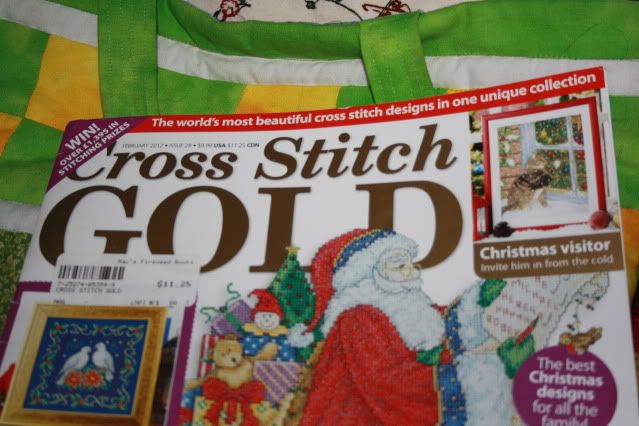 Then I looked up the chart.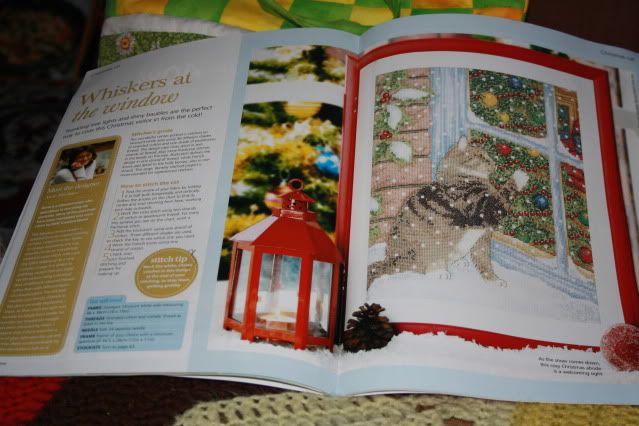 Christmas Visitor
Isn't he lovely? We regularly have our cat begging to go outside on a cold, winter's day. He does a quick circuit around the trailer to the sliding glass doors on the other side and begs to come back in. Stop asking to go outside!!!!! Anyway, this chart just struck a chord with me. It's rather large so it may take a couple of years to stitch.
So I went through my bag of floss and managed to find most of the DMC threads needed.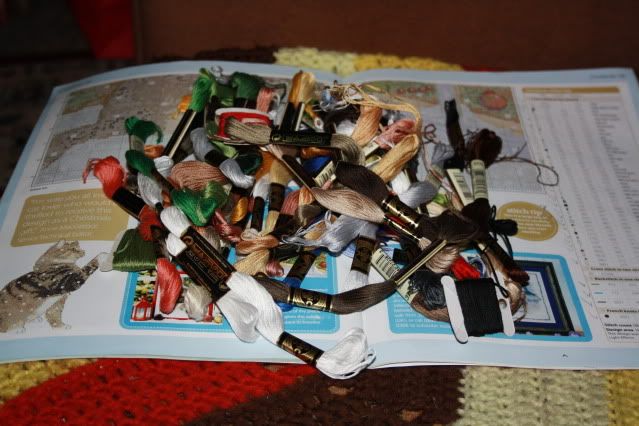 mess of threads!
Unfortunately I was still short about 12 threads and I did not have a piece of 14 count white aida large enough. So I placed an order at
123 Stitch!
. When it arrives I'll give it a start. Any thoughts on whether or not I may finish this before Christmas? 2012? 2013? 2018?
Second, I pulled out my Cinderberry Stitches BOM called Truly Scrumptious. Valerie at
Pastimes Online
was hosting this among several other BOMs in 2011. We were to be completed in November. I'm not. I had 7 out of the 9 blocks stitched. So I pulled out my 8th block and saw that I was nearly completed.
Truly Scrumptious Block #8
So I spent the evening with a Murder She Wrote DVD (I LOVE Jessica Fletcher) and finished off the stitching portion of this block.
Block #8 - stitching completed!
I'm very pleased with the progress I made yesterday. I committed to doing two things, and got them done.
Not only that I cleaned up another pile that I managed to create LOL. While searching for my threads and going through my fabric I made a complete mess of our little bedroom. Have you seen how small bedrooms are in trailers? Basically room for our bed, small tv and a little spot to hold my stacked rubbermaid tubs that hold my stitching stash, my yarn stash and summer clothes. During my search I ended up with one small spot on the bed big enough for my tush, which every time I stood up our cat decided was his spot. It was an entire afternoon of moving the cat.
In my routing around and cleaning I committed to clearing out the stitching stash I'll never get to. Yep, I made the decision. I have a nice little box now to take to work on Tuesday and see if my stitching buddy Shelly (different Shelly) is interested, if not, it's being donated. I feel so free!
I also found a UFO that I will never finish and didn't have the heart to donate or throw away. She's just beautiful but sadly, no longer my style. I do love her though and want her to go to a good home where she will be stitched and treasured. Does anyone have a good home for her?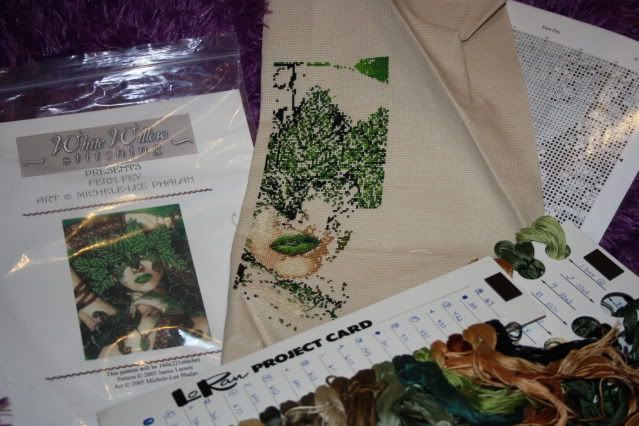 Please stitch me!
This is a 9 page chart and you can see I made some progress on one of those pages. I'm not including the floss though as our floss costs $1 plus GST each and I really need to hang on to these (there is over $40 in floss there and I can't afford to part with it, sorry) for my projects. However, you can have the chart and my fabric, I haven't made a mess of it, it's still quite stitchable. Oh and I forgot to mention this is an OOP chart so very hard to come by.
I'm open to any trades on this piece...some floss, a piece of linen, quality quilt fabric...make me an offer. Just email me at yukonviv@moose-mail.com and we'll talk!
What else did I commit to yesterday?
I signed up for
Little House Needleworks
2012 ornament series. Yes I did. I love ornaments and for the last two years I've been a little envious when I see the monthly ornaments being released. I know, I could have bought them individually but I never got around to it. This year, Janice at
Traditional Stitches in Calgary, AB,
will be kitting these ornaments up and sending to me when they get released each month. Yay!! I love Christmas, I really do, and it will be like Christmas every month!
So I have committed to a bit stitching wise for 2012. Can I do it? Am I up for the challenge?
Quilting wise, I'm still committed to finishing my year long colour class, my mystery quilt with
Border Creek Station
and yes, finishing those 2011 quilts. I have to finish these other quilts up as I find I am really now leaning towards homespun fabrics, fabrics that call to mind home and hearth and cuddles. So I need to get these other quilts finished so I can move on to the homespun!!!!!
Ok, I've babbled enough, what is Task #3 that Shelly has given us?
I've looked and she would like us to pull out a UFO and commit to finishing it. Decide what's missing, what we need to finish it and promise to work on it and finish it!!!!
Oh I can do that!!! I'm off to dig through my stuff and find that quilt that I really want to finish. Yay!
After I get more coffee, I just finished my first cup and need more fuel. Take care and see you later!
Vivian